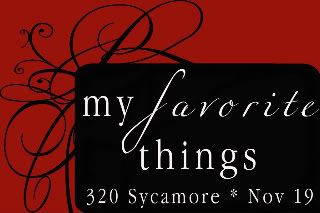 Hi y'all! Happy "Exactly one week before Thanksgiving Day day!"
Today I'm participating in my very good blog friend Melissa's MY FAVORITE THINGS party at 320 Sycamore.
Melissa's party guests are sharing their most favorite things, from any category: home decor, makeup, food, clothing…ANYTHING.
Let me tell you, before I share my list, that ALMOST ALL of these items I tried on the recommendation of a friend, and FELL. IN. LOVE. That's why this party is such a fabulous idea, like we're all in Melissa's living room talking about what we like. So cool.
So, here we go.
I'll start with the obvious. Rustoleum's Heirloom White spray paint. You can paint ANYTHING with this stuff: glass, wood, metal, brass, you name it, I've tried it. AND IT WORKED. The color is gorgeous, but you didn't need me to tell you THAT.

Believe it or not, that's the only home decor item on my list. I decided to veer a little off course today.
Next up is Maybelline's new Colorsensational lipstick in TOTALLY TOFFEE. My friend Ree Drummond,
The Pioneer Woman
recommended this to me. It's a beautiful pinky brown color, very close to Bobbi Brown's "brown" color.
Okay, okay, so I don't exactly KNOW the
Pioneer Woman
, but I read her blog EVERY DAY, so when she featured this lipstick, I was pretty sure she was talking to ME.
After I put on lipstick every morning (ahem), I clean up the mess in my bathroom (yeah, sure, I do that every morning too) with THIS amazing stuff, Method's Tub and Tile Cleaner, in eucalyptus mint.
IT. SMELLS. LIKE. HEAVEN. And you can actually stand there and INHALE after you've cleaned, because it's totally non-toxic.
I can even make the kids clean with it.
What's my favorite treat? I'll stick with the MINT theme here, because I love to smell it AND eat it. If you haven't tried Dove's "Give in to the Mint" ice cream, then YOU. HAVEN'T. LIVED.
I can eat a whole pint in one sitting. That's kind of gross, isn't it? But it's SOOOO GOOD.
It's also part of the reason why I need these.
Lee's Slimming Secret jeans. These are fabulous. And comfortable, soooo comfortable. They are stretchy, but hold their shape. They eliminate "muffin top", and EVEN "Dove ice cream" top. Seriously. AND, they're less than $30 on sale.
I think that my single favorite Christmas purchase each year is one of these "Perfect Christmas" evergreen candle from Bath and Body Works. This candle lasts the whole season, and smells EXACTLY like a fresh cut tree.
Lastly, I'll clue you in on on my favorite beverage. Tazo's Chai Tea lattes. Oh. my. gosh. Sometimes this is the ONLY THING that gets me out of bed in the morning.

I used to blow LOTS of money on Chai Tea lattes at Starbucks, until I realized that you can buy this concentrate at the grocery store. It's the SAME stuff they use at Starbucks. Just mix 1:1 with milk, heat, and ENJOY.
Can you believe that NOTHING on my list came from the Goodwill?
Enjoy the party everyone!
Subscribe to Reinvented!
Join our tribe of Reinventors and get your FREE guide to shopping flea markets, thrift stores, and yard sales.