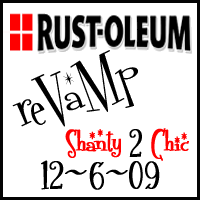 Y'all know by now that I NEVER miss a good party, so when I heard that my girlfriends the Shanty Sisters at Shanty 2 Chic were having a Rustoleum party today, I was pretty sure I had a "few" ideas to contribute.
I hope they meant spray paint, 'cuz if Rustoleum makes anything else, I sure don't know about it!
Party guests are supposed to include a picture of the Rustoleum product they used, so I borrowed the picture from the Shanty 2 Chick girls, 'cuz I use the same amazing formula that they do.
There is NOTHING in this world that transforms something that someone else threw away better than SPRAY PAINT.
I found this bench for $4.99 at the Goodwill store.
After a little upholstery and some Rustoleum Heirloom White, it looks like this at the foot of our bed.
I also transformed an unused door into a headboard, with, you guessed it, Heirloom White.
Just to prove I know that they make OTHER colors, I changed my Grandma's chair (with Canyon Black) from this:
to this:
I've used Expresso Brown to turn spaghetti sauce jars into stylish storage for dry goods.
And Canyon Black again to make jars to store just about anything.
Spray paint can transform a thrift store frame into a message center.
Or a tray to serve summer beverages.
You can use it on clay pots.
I could go on F.O.R.E.V.E.R.
I think I'll let you off the hook now, so you can go check out the party!
Subscribe to Reinvented!
Join our tribe of Reinventors and get your FREE guide to shopping flea markets, thrift stores, and yard sales.