Hello! I am so thrilled to be guest posting for Kimm today. My name is Katie, aka Yoga Gal- I write an odd little blog about all sorts of things…..decorating, basset hounds, music, and maybe a little yoga every once in awhile. Today, I wanted to talk about a popular subject in the Decor Blog World right now- sprucing up for spring.
As the weather warms up, I have been itching to add some color to our lives. I was scratching my head on what to do, and how to do it without spending an arm and leg. Then I received some inspiration from an unlikely source: InStyle. We were traveling last week, and I had forgotten to pack reading material. So I grabbed an InStyle magazine at the airport newspaper rack and immediately fell in love with their featured home.
How many of you are fans of Modern Family? My husband and I love that show- it is like they have a hidden camera in our home, especially the episode about Ferber-izing and kidney stones! I have always liked the actress who plays Claire- Julie Bowen. Remember, "Ed?" Oh, how my best friend and I crushed on Ed. She was Ed's love interest and I always thought that she was pretty. I digress, as usual. Her newly-renovated home was featured in my InStyle and I thought that it was fabulous! And of course, I left my issue on the plane, so I picked up another copy to share with you: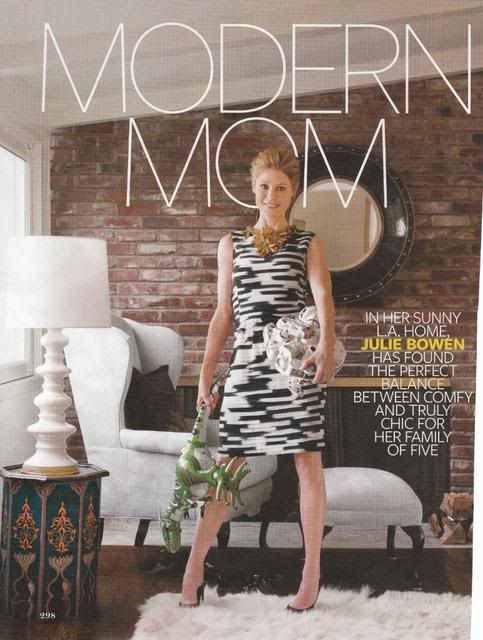 She has three boys under the age of three, so her home has to be functional. I don't know how she gets away with the white seating, but I am thinking that the kids don't play too much in this part of the house:
Love the yellow mirror, I think I am going to have to steal that idea. I also covet the light fixture over the table. Want: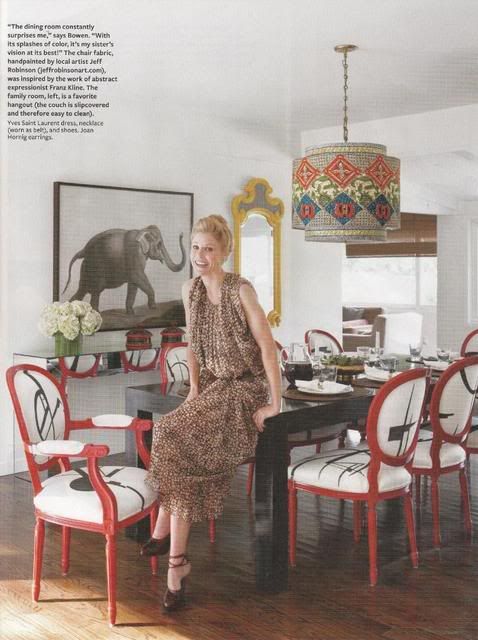 Even cooler is that her home was decorated by her sister. I don't know if my sister and I could get through that, we have very different tastes: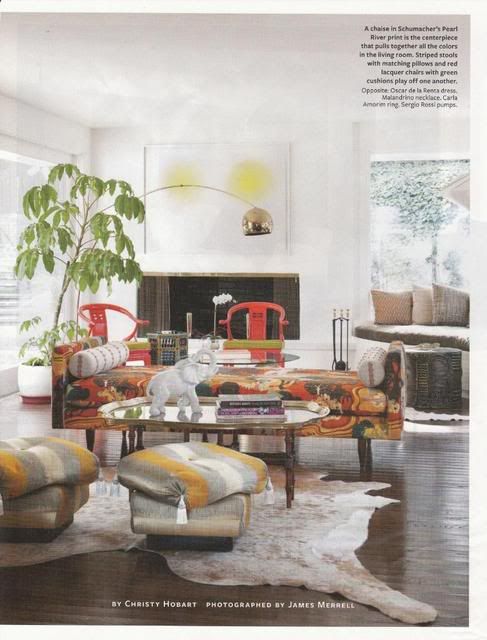 I never would have thought to do salmon pink in a master bedroom, but I love the idea of having your lampshades be a darker shade that the walls. We did that in our bedroom: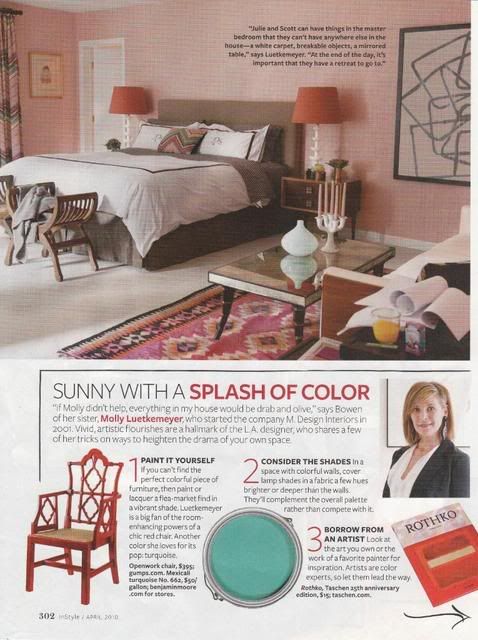 What struck me about this home is that anyone could do this. Just about anyone can have this look- stylish, yet comfy. I love the idea of filling your home with items that you love- not just things that fit a color scheme or design style. It took me a long time to get to that place but I enjoy my house being eclectic. So I guess that is my Main Idea for sprucing your house up for spring. Throw out the "Rules" and fill your home with items that fit your personality. I just picked up a Chinese paper carving of a basset hound- and it is awesome. You will just have to pop on over to Yoga Gal to see it. ;)
Thank you to Kimm for this very cool opportunity. I have had a great time!
Photo Credits:
InStyle Magazine, Issue: April 2010
Photographed By: James Merrell
Designer: Molly Luetkemeyer
Subscribe to Reinvented!
Join our tribe of Reinventors and get your FREE guide to shopping flea markets, thrift stores, and yard sales.