Hi all!  Happy Tuesday! 
I am in MAJOR Christmas decorating mode here, and hope to have some pictures to share this week.  But first, I just have to ask you all something.
Have you ever decided to paint a room so that it will better fit your holiday "vision"?   (please please please say I'm not the only one…)  I'll show you what I'm thinking next week…
Anyway, since Tuesday is a kinda trash to treasure day, I thought I'd share with you my good friend Shannon's blog.  If you've got trash and you want treasures, Shannon is your girl!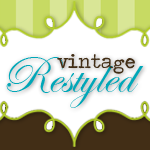 Take a short trip to visit her today, and see what she's doing with this:


Prepare to be amazed!  Do me a favor, won't you?  Leave Shannon a little "comment love" and tell her I sent you!  Have a great day!
This post is brought to you by NPT.  Thank you for supporting REINVENTED.
Subscribe to Reinvented!
Join our tribe of Reinventors and get your FREE guide to shopping flea markets, thrift stores, and yard sales.