Good morning all, and Happy New Year!! 
I am so excited to see what 2013 will bring.  Of course, I have goals; like completely organizing my house, losing 50 pounds and achieving work/life/bloggy balance.  Um, yeah. 
One of my goals every year is to improve the look and style of my home on a budget.  AND to share those projects and ideas with you.
Today I'd like to share how I gave a finished look to our bay window in the kitchen/dining area. 
This is what I started with.  Nice wood blinds (thank you previous home owners, because I probably wouldn't have spent the $$ on these), but no style and an unfinished look.
I had some of this leftover fabric from my family room drop cloth drapes.

Remember the darn near drop cloth drape disaster?  Read at your own risk, it's a cliff hanger. 
Anyway, these drapes are in the family room, adjacent to said dining area with the unfinished blinded windows.  Enter the light bulb above the head moment.
Shazam! 


Do you hear Shazam when you get a good idea?  Crap, I didn't think so. 
Enter tiny, no sew window valances made from fabric scraps. 


There's really no tutorial needed, I don't even know how wide they are, I just made them the width of my fabric measuring/cutting guide thingy, and glued a hem all around.


Then I hot glued them to that metal thing at the top of the blinds. 
God help me, I hope there's not any professional decorators around today. 

Here's what all three windows look like finished.  I love the simplicity, the pattern, and the doneness.  And the freeness.  A good way to start off a new year.
What projects do you have planned?
Linking Here: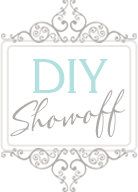 This post is brought to you byNew Homes for Sale.org.  Thank you for visiting REINVENTED.
 Making The World Cuter Monday 
This post is brought to you by Scot JCB.  Thank you for supporting REINVENTED.
Subscribe to Reinvented!
Join our tribe of Reinventors and get your FREE guide to shopping flea markets, thrift stores, and yard sales.