Happy Monday!!  I hope that you all had a great weekend.  I actually got quite a bit of cleaning done, so that always makes Monday feel better. 
Today I'm linking up to Blissfully Ever After's Dog Days of Winter (are over) Thrift It Linky Party.  This is my kind of party, you know. 
Last week, I shared my organized kitchen gadget drawer for the Organize It Challenge. 
Today, I have a thrifty way to add cute to your organizing.
I found these adorable little frames at my Local Goodwill.  Painted them Rustoleum's Colonial Red, of course.
A couple of pieces of scrap cardboard, a little chalkboard paint , and some hot glue, and…
I had organized cute.  One basket for movies.
And one for video games.  The baskets and liners are from Target.
Thanks for stopping by!  Don't forget to enter my Pier One Gift Card Giveaway, the winner will be drawn on Wednesday!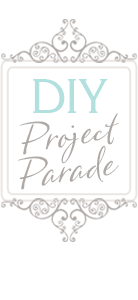 Subscribe to Reinvented!
Join our tribe of Reinventors and get your FREE guide to shopping flea markets, thrift stores, and yard sales.