Hi friends!  I hope that you all enjoyed your weekend.  We had some fantastic spring weather here and it was just what the 'ole doctor ordered.
I had Friday off and spent part of the day thrift shopping, but struck out at my two favorite Goodwill stores. 
I think I was reluctant to buy any more "projects" because I kinda have a back log at home, if ya know what I mean.
I crossed one of those back logged projects off my list this weekend, by performing a little paint magic on my boring builder mantle.
Here's a before shot for you.  As much as I like white trim, this mantle just wasn't making my heart sing.
First, I tried painting it with French Linen from Annie Sloan Chalk Paint.
I figured since everyone loves this color, then I'd love it too, right?

Uhh, wrong.  I do like the color, kind of a muddy gray, but it was all wrong in my family room. 
It made my walls look pink, people.
So I reversed course and painted the mantle the same color as my walls.  Flax, from Valspar. (please ignore the dusty red box, k?)

I know, this is even more boring than white.  Just give me a minute.
My next step was to dry brush a light layer of ASCP in Old White over the Flax.

As you can see in this shot, next I "wallpapered" the flat surface with some paintable wallpaper that I picked up at the Goodwill for $2 ages ago.
I painted the wallpaper Old White, then dry brushed on the Flax.  The opposite effect of the rest of the mantle.
Are you still with me?

And…voila!    What do you think? 

I am really liking the texture, detail,  and cottagey character I see now.
And yes, my heart is singing.
Off key, as usual.

More pics, cuz it's just so pretty.

What did you do this weekend?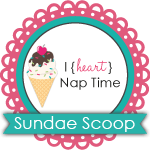 Subscribe to Reinvented!
Join our tribe of Reinventors and get your FREE guide to shopping flea markets, thrift stores, and yard sales.